Finally, you can gain more prestige, become known as an expert and charge higher fees ...all in a matter of a few hours
over the weekend!
Watch as you instantly become an expert in your field, differentiate yourself from the competition, fill your sales funnel with leads and cram your appointment book with loads of clients who are glad to pay you what you're worth!
Now, in one "virtual" online weekend, you can create the one item that can lead you to:
Get more of the highly coveted clients you desire


Charge higher fees even as much as quadrupling your current asking price


Establish your expertise overnight expertise that you don't have to explain because no one will question you


Speak volumes about your professional credibility 24 hours a day, 7 days a week!

Being an author gives you this and more!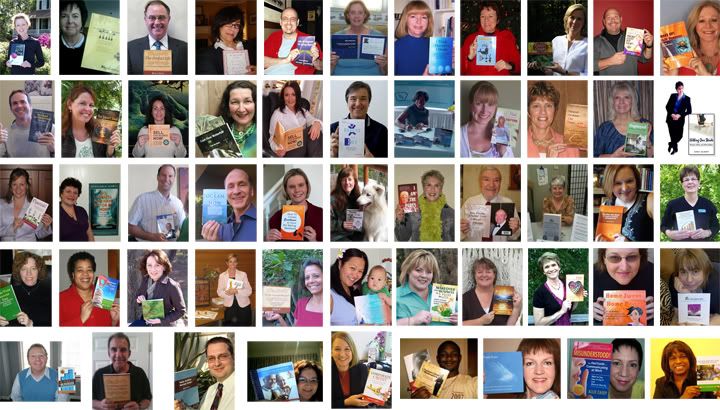 (All of these authors are Write a Book in a Weekend® graduates.)
You probably realize that having your book has become as necessary as having a website or a business card—in fact, your book is your business card.

A book has become a proven way to attract more engagements, generate back-of-room sales and provide a starting point for other info products.
In fact, now there's a fast and easy way to get published and create the ultimate positioning tool to use as a lead generator, expertise builder and have clients pursuing you—not the other way around.
I can show you how to create a book that will generate attention, interest and turn on the tap to a huge gush of leads.
Here's a "hot list" of other reasons to have a book followed by how you can get started on yours today.

Once you've published your book, imagine how you can...
Command greater fees, charge higher prices, and lower price resistance among your clients and prospects.
Change the lives of your readers: prospects, clients, and others in your industry, field or product category.
Establish yourself as an expert in your field among prospects and centers of influence, so you attract significantly more and better-qualified clients who are willing and able to buy from you.
Build a loyal base of fans who will seek you out to hire and buy from you, PLUS rave about you to others. (It's like having your own groupies!)
Attract media interviews, potential high-level partners, endorsement requests and more speaking gigs.
Get and maintain top-of-mind awareness with your clients and prospects. When the time comes and they need or want your products or services, they will automatically turn to the expert in the field - YOU!
Package your knowledge in one place where you can pull tips and articles to generate additional exposure to your business and traffic to your website.
Boost your sales efforts by demonstrating to current clients what you really know about your subject of
expertise and what you can really do for them.
Spread the word about your business via "word-of-mouth" marketing. (Your book can be the match you need to spread your message like wildfire!)
Create new revenue streams for you by using it as a springboard for additional information products, such as CDs and teleseminars.
A book has become a proven way to attract more engagements, generate back-of-room sales and provide a starting point for other info products.
Yet if you've tried to write a book, you know there can be some challenges in getting started—or getting finished...
It's hard and time-consuming.
You've probably heard the statistic that four out of five of us want to write a book. The fact is, few of us realize that dream. You might think writing a book is hard work. Or it doesn't take just a little bit of time—it can take a lot of time. With so many things pulling at your attention, it's hard to find the hours needed to sit down and write.

Perhaps you've even scheduled some "book writing time" in your appointment book and held true to a couple of them, but then found things going by the wayside as other items to take priority.

Or maybe things stalled as you realized that writing a book was a much bigger project than you originally thought, and you became frustrated by the process.

Don't feel bad—I started and stopped my second book several times before finally getting it done. It can be a frustrating process, especially when you're trying to do it on your own with sheer willpower.

You don't know how to select a "winning topic."

Say you do have the time and the energy to write a book, how do you know what to write about? Whether you've been working in your field for awhile or are just getting started, you probably have a fairly large "knowledge base." How do you pick one of your own "hot topics" and then narrow or expand the subject matter for a book?

Next, how do you make sure your book is one people will want to read? Just like you wouldn't stand up and start speaking about anything, your book has to have purpose and focus so it connects to your audience. You'll agree that you don't want to waste your time putting a book together that's not going to speak well of you when you're done, right?

Where do you even begin in organizing your thoughts for "book format?"

Sure, you might have put together your fair share of ezine articles and blog posts, and have thought about compiling them into a book—but what comes next? And what else do you have to worry about so your book and its content can stand proudly on the shelf next to other books at Barnes & Noble? Or sell on Amazon?

Most of all, where do you go to get it published? You're a business owner, after all, and don't want to put the time and effort into learning a whole new skill like publishing. There are hundreds of places online claiming they can print and publish your book, but how do you know who to trust?

You really don't consider yourself a writer.

Or, maybe you're one who doesn't put together ezine articles or blog posts. Maybe you do most of your work face to face or on the phone and don't have a "back end" of articles and other written material. How can you write a book when you don't have "word one" done? I'm here to tell you that you definitely can—and I show you how.

You may have been hearing the debate about being self-published versus pursuing a traditional publisher. If you do self-publish there are thousands of companies to consider--how do you know which is the right one?

I understand--anybody would find all these challenges overwhelming. (I know I did when I published my first book several years ago--years before all these options sprung up all over the place!) I also understand that you're not in the "publishing" business--you have your own area of expertise and little time to figure out the best way to get your book published.

Even though everyone can have an opinion, the answers to your publishing questions will become crystal clear once you know the pros and cons of each method, and even several scenarios where you can have the best of both worlds!

Introducing Write a Book in a Weekend®:
The Fast & Easy Way to Get Published!
It's a weekend I've personally set aside to
walk you step-by-step through the process!
(Note: No travel required for this live "virtual" event!)
From the desk of
Donna Kozik
8:55 a.m. Tuesday
San Diego, California

Before I tell you more, I want you to think for a few minutes about what becoming a published author and having your own book—one with your name and picture on the cover—can do for you…

A book exponentially increases your credibility, making it super easy to sell ANY product or service you promote—or promote on behalf of others. Think about it. What if you snagged one more client this year for quadruple your normal fee. You can do it easily enough—by having a book that sets the stage with your prospects and speaks for you when you're not even in the room.


Donna Kozik has shown business owners just like you how to become a published author ASAP.



There's an easier way to write your book—
even if the last thing you wrote was
a high school term paper!
Perhaps you've heard of my fast and easy book writing system, "My Book Writing Blueprint." Or you've thought about attending one of my private Write-a-Book-in-a-Weekend "bookcamps."

Both items can show you how to get your book done fast and easy—yet I still sense some doubt from others about whether or not it could really be done—could I really show you how to write a book in a weekend?

I gave it some thought and realized that indeed I could! What it would take is a proven system, easy-to-understand instructions and a short, focused time dedicated to getting it done.


Meet the Stars of the
Write a Book in a Weekend® Event

#1: Anybody Can Write a Book with My "Fill-in-the-Pages" Book Template

When I was writing my books, I found that the hardest thing was getting started. First I'd open up a blank document and stare at that for awhile. And then I'd put sheets in a three-ring binder and carry that around. Or I'd get one of those "blank journals" and think I would fill that with my wisdom, transfer it to the computer and then have my book—the fact is that my books never got written that way.

It was just too hard starting from scratch. If you've ever experienced that frustration—or even if you haven't—I don't want "blank page syndrome" holding you back from becoming a published author.

So I kept thinking that there had to be a way to make it easier. Then one day it hit me (where else, but in the shower!). A fill-in-the-pages book template, already designed in "book format," so you can craft your book in a matter of hours. All you have to do is insert your information and you'll be ready to go.

Plus, you can use one of my templates again and again to write as many books as you'd like—one, two or hundreds!



#2: No Thinking Required: I Practically Create Your Content For You!

Imagine the power of having a short and powerful book at your fingertips—produced for a fraction of the cost of some fancy and high tech business cards—that you could present to prospects right after meeting them? How many other people are passing out their books at your local networking event?

Okay, next problem. What should that content specifically consist of? Of course, you can write your book about anything you wish, yet wouldn't it be a joy to have someone telling you ideas for what to write on every page? That's exactly what you get here. I lead you step-by-step through the process and show you how.


#3: Get Your Publishing Questions Answered

Getting your book written is one thing—where should you go to get it published?

There are tons of publishing options out there, ranging from pursuing a traditional publisher to selecting one of hundreds if not thousands of self-publishers.
I cut through the clutter and lay publishing options out, and give you my recommended pick so you could literally upload your book Sunday evening and have a review draft in your hands days later.
And then there's the question of "what's next?" In our "graduation session" on Sunday night, I show you how to plan "next steps" for your book launch and promotion.



#4: Let's Have Some Fun: the "Write a Book in a Weekend" Event Where It's Like I Come Sit Beside You & Cheer You on to Get Your Book Done

Ever since I started the "Write a Book in a Weekend Club" on Facebook, I have asked people asking me, can it really be done? I have laid out the steps above to show you, yes, it can.

Many of you, though, are asking for more—beyond the template and the specific steps. They want the accountability and expertise available to them the weekend their book is written.

So, I've "booked myself" for an entire weekend to be there for you and answer your questions, provide inspiration and basically "cheer you on" as you write your book in a weekend.
You also have the opportunity to network with other soon-to-be authors and have a "Book Buddy" for the weekend for extra incentive and accountability.
Write a Book in a Weekend® : It's a complete system you can implement in one short weekend to
get your book written and published.
A fill-in-the-pages book template, already designed in "book format," so you can craft your book in a matter of hours.



Step-by-step info about how to funnel messages into your book the easy way.



Secrets to streamline your writing and editing process so you can knock your book out in a matter of hours (not weeks or months)!



Access to my expertise so you overcome any roadblocks on your way to being a published author. (A writer all my life, I'm a former newspaper editor and the author of three books...and counting!)



Insider information for getting your book published so you don't have to wade through all those online options—I've done the work for you!

Guidance about "what's next" with your book—how to promote it and use it as your "big business card" to generate more leads in your funnel, clients in your calendar and money in your checking account.



The commitment and accountability some people crave—it will be like having your own personal book writing coach and cheerleader sitting right next to you!
Write a Book in a Weekend?
You're freakin' kidding me, right?

You may be rolling your eyes and dissing my program simply because of its name. You might think it's some slick marketing tactic and no one could actually write a book in a weekend.
Actually, once you get to know me, you'll realize that the last thing I want to do is come off as inauthentic and "full of it." You can take me at my word that you can do this—really write a "real book" in a weekend.
I will make you a BELIEVER!
In fact, to show you how "real" this is, let me give you my best secrets to success to Write a Book in a Weekend right now:
Write a "Short & Powerful" Book

This is my term for a book that's "modest in content, but meaningful in message." (Not "War & Peace") I guarantee you, this is the type of book your audience actually wants to read!


Clear Your Schedule

Although I actually had one participant start and finish his book on a Sunday afternoon/evening, it's best if you can dedicate two full days to the process.


Let Me Write Your Book For You

You read that right. If you find yourself stuck or overwhelmed at any point in the process, I'll give you a "done" book—just put a title and your name on it and you're good to go!
You see, it's not a lie or exaggeration—
you really can Write a Book in a Weekend®!
"How does the weekend work, exactly?"
After you register for "Write a Book in a Weekend®" this is what will happen next:
Step 1: Preparing for Success
You'll receive a welcome audio from me, plus the Write a Book in a Weekend on demand system so you can get started right away. In addition you'll have prep materials for our virtual live event. (No travel required.)
Step 2: Scheduling and organization
Shortly after that, you'll receive a full schedule for the weekend plus guidelines to creating your own personal "get it done" schedule. In addition, you'll receive an audio I created especially for "Write a Book in a Weekend" participants titled "11 Keys to Writing a Book in a Weekend" This audio will ramp you up to greater success for the weekend.
Step 3: Ready to write
In the days prior to "Write a Book in a Weekend," you'll be receiving additional materials and guidance from me so you're ready to rock and roll come Saturday morning. The crux of this coaching is our "On Your Mark" call on the Wednesday before the weekend where I answer more of your questions regarding content ideas, title ideas, and how to use the "Write a Book in a Weekend" templates.
REMEMBER, all calls are recorded and available for play-back or download within minutes after they conclude.
Packed with Value After Value!
Here's what makes Write a Book in a Weekend even more valuable!

Private Facebook Group
The virtual weekend event harnesses the power of social media with our own private Facebook group. It gives you the comfortable place to connect with other weekend writers, ask questions, try out possible titles and, if you like, post pictures of furry writing partners.

Create Content Faster
It's coming to the point where keyboards themselves will be so last century. Let me show you how to use the power of cutting edge tools that make creating content faster and easier than ever.

New! 4 Best-Seller Structure Formulas
A comprehensive audio that details the formulas for four best-selling book structures, including how-to, self-help and others. This makes it so easy to Write a Book in a Weekend--it's like "plug and play!" You can use these formulas again and again to write one, two or dozens of books to promote yourself and your business!
So tell me, Donna...
If the Write a Book In a Weekend® Event
Is So Great, Why Aren't You Charging More For It?
Believe you me—as this product and number of live calls grew and grew, I started asking myself the same question. But then I made up my mind to stick with what I thought was the right thing to do.

When I talked about what I was creating and the price to my colleagues, they wondered aloud if people will see the value--and my value--for something that's so inexpensive. (And more than one called me crazy for not charging more!)

It's true—I do charge much more for my other coaching groups and consulting work. In fact, I have several clients right now who have paid me more than $5,000.00 each to tap into the exact same book writing and publishing expertise I'm offering you.
However...

1. I wanted to make these materials and event available to anyone who wants to write their book in a weekend. And I didn't want price to be a factor.

2. I wanted people to implement and take action without a huge investment. Because being a published author is so valuable, this short weekend and small investment will literally pay for itself 10, 20, 100 times over!

3. I realize you're busy, so I wanted to make it something you could manage—time wise and financially—along with all your other normal weekday and weekend plans.

4. And, with the cost of everything going through the roof, and so many putting so many programs out there that cost 100s or 1000s of dollars, I didn't want to make the investment amount a prohibiting factor for you in creating such a valuable lead generator and credibility builder.

5. Most of all, I wanted to prove to you that you could Write a Book in a Weekend, pure and simple. I knew the small investment would both pique your interest and yet encourage you to follow through.

UNTIL NOW there was no easy system to create a powerful book that inspires and impacts your clients & prospects to take action in their own life—and take action with you.


UNTIL NOW there was no fill-in-the-blank template business owners could use to get a book done in as little as a few hours and more experienced writers use as a place to format all their pre-written pieces.


UNTIL NOW there was no way to present messages you've already honed and perfected into a "done for you" book format where you could have your book written in a short weekend and have it in your hands days later.


And, most importantly . . .


UNTIL NOW, there was no one at the helm offering expert insight and an environment of support to show entrepreneurs how to transform their dream of becoming a published author to a Monday morning reality.



Fast Author Bonuses!


My "Bullet Proof Book System" means you simply
"cannot not" get a book done over the weekend!

If the idea of writing a book really has you overwhelmed or even a little scared, then I have the perfect solution. On the Saturday of our "Write a Book in a Weekend" event, I will give you even more "done for you" materials so you can get your book done fast and easy. (How easy? If you can type your name, you can have your book manuscript done in 60 seconds or less.)

My "bullet proof" system means you will not leave the weekend without having a book done—complete with your name on the cover! (And that system doesn't include me brow-beating you all weekend or you staying up all night!) Instead, you'll have a book people will covet and have it done fast and easy.

Plus, Write a Book in a Weekend® On Demand System
Now you don't have to wait to get started! As soon as you register, I'll send you my "Write a Book in a Weekend® ON DEMAND" system. With audios, templates and guides, it has everything you need to get started right away if you like.

Write a Book in a Weekend® may be the key that unlocks the door to becoming a published author
with your own book.



100% Satisfaction or "Your
Money Back" Guarantee

If, after purchasing Write a Book in a Weekend, you are not satisfied with the materials and guidance provided, just let me know before the weekend concludes and I will happily refund your money.

*Note: full terms and conditions of our guarantee.
After you register, you can choose to participate in any of
these weekends:


2019 DATES
October 12-13
November 16-17
2020 DATES
January 26-27

YES, I'm ready to become a published author!

Sign me up for the Write-a-Book-in-a-Weekend Virtual Event featuring "Donna's Fill-In-The-Pages Book Templates." I understand I'll receive all the materials described above, plus the three ON DEMAND systems, plus expertise and inspiration direct from you in the form of written resources, audio, video and live calls. I understand I'll receive the opportunity to download all the documents and audio components so I can use these materials again and again to write and publish many books. If I can't make it on the designated weekend, I will receive all the materials and can write my book myself -- I will have everything I need.
After I register, I will tell you which of these weekends work best for me:

2019 DATES
October 12-13
November 16-17
2020 DATES
January 26-27

Here are your registration options:

DIAMOND LEVEL

As a "Donna's Diamond" and you'll receive everything above, including 6 live training and Q & A calls, "Title Idol," fill-in-the-pages templates, and a weekend of accountability, plus you'll have two opportunities to receive an editorial review of your weekend writing to make sure you're on track. The first during the weekend itself and the second within 30 days after the weekend concludes. This is a good option if you question the clarity and flow of your writing and want a professional opinion.

"Donna's Diamond"

One-pay of $997 (Best Deal)

Six-pay of $195 (Budget Friendly)

GOLD LEVEL

Receive everything described above, including 6 live training and Q & A calls, "Title Idol," fill-in-the-pages templates, and a weekend of accountability.

"Gold Level"

One-pay of $497 (Best Deal)

Six-pay of $95 (Budget Friendly)


Your transaction is guaranteed safe

Future entrepreneurs and Donna
at a recent PFEW Business Camp
A portion of all proceeds goes to support the
Foundation for Free Enterprise Education

Remember, this is a limited time offer at a ridiculously low investment—on purpose! I want you to prove to yourself that it can be done—you can write your book in a weekend and get known for being the expert you are in your industry or niche.

I look forward to working with you—and showing you how to get published in as little as a weekend!

My best,


Donna Kozik
USA TODAY and WALL STREET JOURNAL best selling author, Creator & Leader of Write a Book in a Weekend®
Multi-Award Winning Author, Founder of MyBigBusinessCard.com, & the "Write a Book in a Weekend Club" on Facebook



Write a Book in a Weekend®
"Donna's Diamond Investment"

One-pay of $997 (Best Deal)
Six-pay of $195 (Budget Friendly)

"Gold Level Investment"

One-pay of $497 (Best Deal)
Six-pay of $95 (Budget Friendly)


Who is Donna Kozik and Why Should You Listen to Her Anyway?
Donna Kozik grew up on a 200-acre dairy farm in northwestern Pennsylvania and now lives near the freeways and beaches of San Diego, where she shows coaches, entrepreneurs and others how to become published authors the "fast and easy way."

In fact, she has set a personal goal of turning 1000 people into published authors in the next 12 months.

Her system for doing this is live and virtual "Write a Book in a Weekend" events, featuring Donna's "fill-in-the-pages" book templates plus a weekend of live audio and recorded video messages that motivate and inspire soon-to-authors to complete their books in 2 days.

She is former newspaper editor and senior communications specialist, a two-time award winning book author who has been featured in Woman's Day and Women's World magazines, The LA Times and The Baltimore Sun newspapers, NPR's "Marketplace" news magazine and the NBC Nightly News. She's also been a paid national media spokesperson for Sprint PCS and has been featured in several other books including ones by Bob Bly and MarketingProfs, along with Don't Sweat the Small Stuff--and It's All Small Stuff Stories.
Per the current FTC guidelines, we are in the process of collecting results data from our customers to be able to define the "typical" or "average" experience of our customers. While we collect that data, we are sharing the photos and comments of individual customers. None of these photos or comments in any way represent the "average" or "typical" customer experience. In fact, as with any product or service, we know that some customers invest in our system but never use it, and therefore get no results from their investment whatsoever. Therefore, the customer stories we are sharing can neither represent nor guarantee the current or future experience of other past, current or future customers. Rather, these customer stories represent what is possible with using our system. Each of these unique stories, and any and all results reported in these stories by individual customers, are the culmination of numerous variables, many of which Donna Kozik Marketing, Inc., cannot control, including pricing, target market conditions, product/service quality, offer, customer service, personal initiative, and countless other tangible and intangible factors.

Copyright 2007 - 2019, Donna Kozik Marketing, Inc. All Rights Reserved.
"Write a Book in a Weekend" is a trademark of Donna Kozik Marketing, Inc.